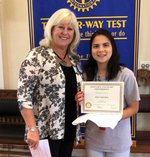 Student of the Month - May
Keri Sanchez - Rotary SOM May 2018
Keri Sanchez - Senior at Mid-Carolina High School and student at the Career Center in Health Science Clinical Study. Her parents are Noe Sanchez and Maricruz Sanchez, and Keri states that everything she does is for them.
Beta Club since 2012 and National Technical Honor Society at the CC
Current Art Club President - artwork placed into the Converse College Women of Art Exhibition and received third place in drawing – just had a very successful showing of her art at the MCHS Art Show.
2017-2018 MCHS Homecoming Queen and involved in Green Steps, Envirothon, Book Worms Club, MCHS News Crew, and Art Club.
This Sunday, Aiken Chapels in North Augusta is recognizing her as one of 9 outstanding seniors at MCHS.
accepted to Winthrop University - Registered Dietitian.
Interned with Dr. Allison Gardner, of Midlands Chiropractic in Newberry and with Mrs. Carolyn Barnes, Director of Child Nutrition with the School District
Her goal is to become the best version of herself and to never forget the importance of putting 110% into everything she does.