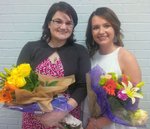 2018-19 TOY and SSOY
Congratulations to Mrs. Jolene Smith for being selected as the 2018-19 Teacher of the Year for Newberry County Career Center. Mrs. Smith is in her 3rd year as a Business & Marketing Education Teacher. She also coordinates our Future Business Leaders of America and our Relay for Life Campaign. She is married to Casey Smith of Newberry and has two sons, Eli and Izac.
Congratulations are also in order for Ms. Mallory Matthews as the 2018-19 Support Staff of the Year for the Career Center. Ms. Matthews is also in her 3rd year and serves as an administrative assistant for both the Career Center and for Parenting & Family Literacy. Ms. Matthews is vital in coordinating our field trips and Advisory Committee meetings just to name a few.
Congratulations to both of you and thank you for continued support of Career and Technology Education in Newberry County.