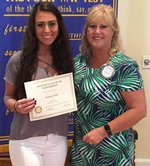 Student of the Month - October
Rotary Student of the Month – October 2017
Darby Dail is the daughter of Kellie and Jerry Dail and a senior at Newberry High School, where she has a 4.0 GPA. She is a second year Cosmetology student at the Career Center and will graduate with not only her high school diploma, but her S. C. Cosmetology license.
Her instructor, Ms. Samantha Young, stated that Darby is one of her most motivated and dedicated students and shows her passion and energy on the salon floor with her successful end results.
She is an active member of the National Beta Club and enjoys golf and other outdoor activities. She plans to attend college, possibly on a golf scholarship, and earn a business degree. Her long-term plans are to take over her grandmother's salon in Columbia.