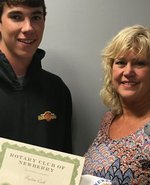 Student of the Month - April
Preston Cook is a senior at Mid-Carolina High School and is currently enrolled in both the Welding and Mechatronics programs at Newberry County Career Center. By the end of the school year, he will be a triple completer in the programs of Plant and Animal Systems, Mechatronics, and Welding. He will earn 15 dual credit hours at Piedmont Tech in the Mechatronics program. Preston is currently participating in a work-based learning experience at Falcon Boats. He is an officer in the FFA and has earned his State degree, the highest degree offered to high school students. He was recently selected as the Technology Champion at the Career Center.
He has worked the past two and a half years at Carolina Kitchens constructing custom cabinets, and as a result of his training and on-the-job skills, he recently won the SkillsUSA State Cabinet Making competition and will compete this summer in the National competition in Kentucky.
Preston is currently the president of Mid-Carolina High's Bass Fishing Team, and the reigning Bass Fishing State Champion. He is also a member of the award winning MCHigh Archery Team. Preston is an active member of the Wightman United Methodist Church youth program and is an Eagle Scout. He participated in the 2016 Teen Westwards Bound.
Preston is the son of Deborah Cook and the late Lalan Cook and he plans to pursue a Mechatronics degree from Piedmont Technical College.