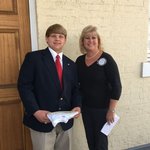 Jacob W. Wicker
The Rotary Student of the Month from the Career Center for November is Jacob W. Wicker. Jacob Wicker is a senior at Mid-Carolina High School and a student in Mike Jaeger's welding class at the Career Center with a 99 average. Jacob will be a completer student in Welding and is also doing service learning in Mr. Jaeger's class to help first-year students as they learn to operate the cutting torch and begin to weld. He was a nose guard on the Mid-Carolina High football team, and is a member of the Pomaria Ruritan Club. He is the youngest member of this club and served on the board last year. Jacob is active in the youth department of Mount Pilgrim Lutheran Church, and a member of St. Paul's Lutheran Church.
In his nomination of Jacob, Mr. Jaeger said, "Jacob is a very respectful young man. Always on time, ready to work, and willing to do whatever it takes to get the job completed. He aims for perfection and doesn't give up until he achieves it. I feel very comfortable with Jacob helping the students. He's extremely talented, very patient, and everyone likes him."
When he graduates, he plans to continue his studies in welding at a technical college. Jacob is the son of Tammy and Nathan Wicker of Prosperity. Congratulations Jacob.